Antônio Guterres: As colônias/invasões isralenses na Cisjordânia são ilegais
"We are here to saty, forever!" said Binyamin Netanyahu last Monday night in Barkan, a settlement of about 1.500 zionists, at an event celebrating the 50th anniversary of Isreli occupation of the West Bank and the Gaza Strip.
Meanwhile, UN Secretary General Antônio Guterres visited the Gaza Strip in a desperate bid for funding and other measures to alleviate the Palestinian 'open air prison's' burgeoning humanitarian crisis.
In a speech on Wednesday during the UN chief's visit - his first since becoming head of the international body earlier this year - Antônio Guterres said he was "deeply moved" to see the suffering of Gaza's two million residents first hand.
"[It is unfortunate] to witness one of the most dramatic humanitarian crises that I've seen in many years working as a humanitarian in the United Nations," he said at a school run by UNRWA, the UN agency for Palestinian refugees, in the northern Gaza Strip.
10 years on since Israel imposed strict land and sea blockades, the situation for ordinary Gazans is dire.
Three devastating rounds of fighting with Israel, sky high unemployment and a fuel tariff dispute with the rival West Bank Palestinian Authority (PA) - which has led to crippling power shortages - have come to a head in recent months.
A July report from the UN found that the Gaza Strip is now "unlivable", and de-developing quicker than expected.
On Wednesday Antônio Guterres - whose visit was met by peaceful protests against perceived UN inaction - appealed for more aid for Gaza and announced the release of US$4m from the UN's emergency relief fund.
Both the Israelis and the Palestinians had a role to play in alleviating Gaza's suffering, he added.
"I have a dream," the UN chief said. "A dream to one day see the holy land with two states - Israel and Palestine - living in peace and security together... Israel must open Gaza's borders, including the Rafah crossing with Egypt and the PA must work towards a political reconciliation with Hamas. The division only undermines the cause of the Palestinian people."
Guterres was on his first visit to the Middle East as head of the UN, meeting with both Israeli and PA leaders to encourage the resumption of peace talks, which last stalled in 2014.
Unfortunatelly, he did not meet with Hamas officials in Gaza. However, Hamas issued a statement demanding that the UN persuade Israel and Egypt into lifting their blockades, and demand the release of Palestinian prisoners from Israeli jails.
Speaking of Hamas, it is currently preparing to allow hundreds of Fatah members to return to the Gaza Strip, as part of its agreement with exiled Fatah member, Mohammad Dahlan - who Hamas has accused a few years ago of helping Israel to kill Yasser Arafat.
The ruling party in Gaza is creating a list of names of those who may return – related to around 90 percent of Fatah members who fled Gaza after Hamas took power.
Chief among those who are set to return is Dahlan's right-hand man, Samir Mashrawi, controversial in Gazan politics for his personal role in persecuting Hamas members during the 1990s.
Mashrawi's return symbolises a major return to Palestinian politics for Dahlan and some pundits have pointed out the importance of a Fatah movement in Gaza separate from Fatah in the West Bank.
Palestine President in the West Bank, Mahmoud Abbas, with Netanyahu, attempted a policy of "starve or kneel" with the besieged Gaza Strip for months – leading to Hamas' unlikely alliance with its one-time enemy in Dahlan.
The Fatah list of returnees forms part of a string of goodwill measures agreed between Hamas and Dahlan in Cairo that gave rise to important UAE investments in the besieged Strip.
Hamas on Tuesday also agreed to the release of three prominent prisoners, including Hassan Mohammed Al-Zant, the would-be assassin of current Hamas chief, Ismail Haniya; and of two others release, Ahad Abu Qamar and Subhi Abu Dahi.
Young Zionist settlers in the West Bank harass Palestinian Christians in a daily basis. A foreign journalist caught on video one of these aggressions that didn't become physical because of the camera.
If you are in London this Fall, go to the Young Vic Theater to see:
My Name is Rachel Corrie
DAILY LIFE UNDER OCCUPATION
Moving house in occupied West Bank is mission all but impossible
with the checkpoints and mean Israeli soldiers.
Gaza's hospitals warn of catastrophe with chronic electricity extreme shortage and cuts
Demolition of Education is the new Israeli war against Palestine
On 24 august, zionist settlers from Kiryat Arba verbally abused Palestinians in the al-Harigah neighborhood of Hebron on loudspeaker, including insults to Islam. When they noticed a B'Tselem volunteer filming them from her window, they directed racist and obscene language at her, including threats of extreme sexual violence. Although the threats were explicit and the swearing constituted severe sexual harassment, Israeli soldiers at the scene allowed the settlers to continue undisturbed, as is usually the case.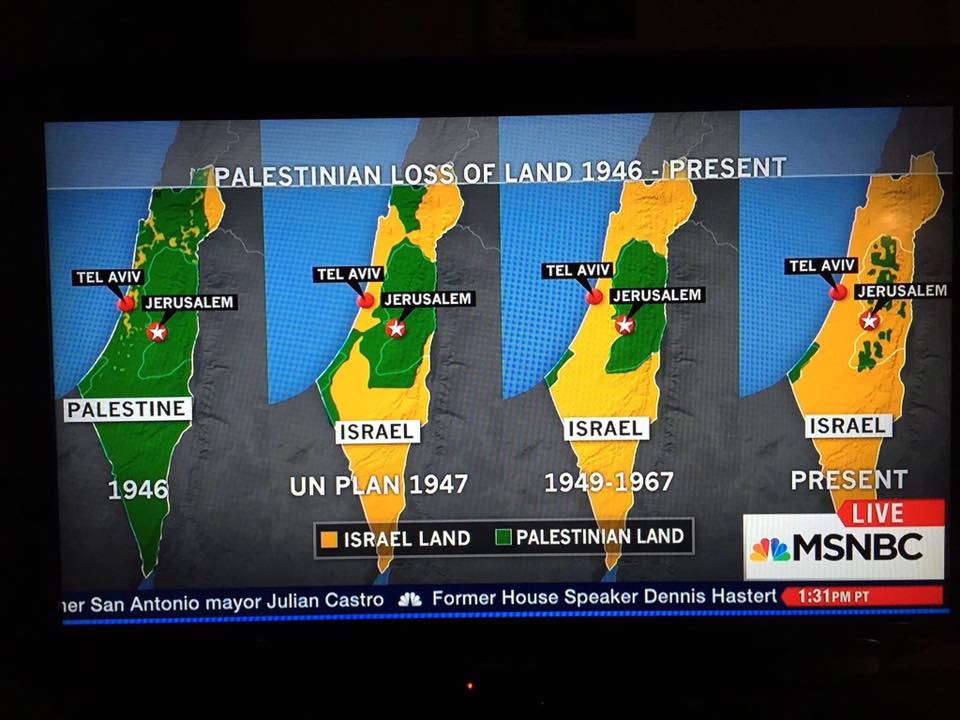 J
ornalistas Livres
Porta dos Fundos
USA
Bulgarian journalist Dilyana Gaytandzhieva was fired for exposing how the CIA ran weapons to terrorists.
Exceptionally concise explanation of the rise and fall of THE SIMPSONS